Captain Spaulding Tattoos - Paying tribute to Sid Haig | Laky Set from Radiant Tattoo Ink
Captain Spaulding Tattoos - Paying tribute to Sid Haig | Laky Set from Radiant Tattoo Ink












Horror fans everywhere will no doubt be deeply saddened by the unfortunate passing of Sid Haig who died at the age of 80 years old on the 21st September.  Actor Haig is best known for his role as Captain Spaulding - one of the most terrifying clowns in horror movie history, created by infamous movie maker Rob Zombie.  Haig starred in 3 of Zombie's hit horror films - House of 1000 Corpses, The Devil's Rejects, and most recently, 3 From Hell, which has just been released. 


Naturally, there are tonnes of people paying tribute to Haig by getting Spaulding tattoos on them, so today we wanted to take a look at some of the incredible Captain Spaulding tattoos out there, old and new.  Check them out here.
Incredible work by Al Garcia. 
We're loving this bold blackwork piece by Kass. 
Amazing work by Rob Forrer. 
A totally creepy new school piece from Victor Hell. 
A phenomenal traditional piece by Kenny Tea. 
Head-turning black and grey work from Gareth Watson. 
What's the matter kid?  Don't ya like clowns?  Magnificent work from Javier Eastman. 



A stunning back/shoulder piece from Nic Mann.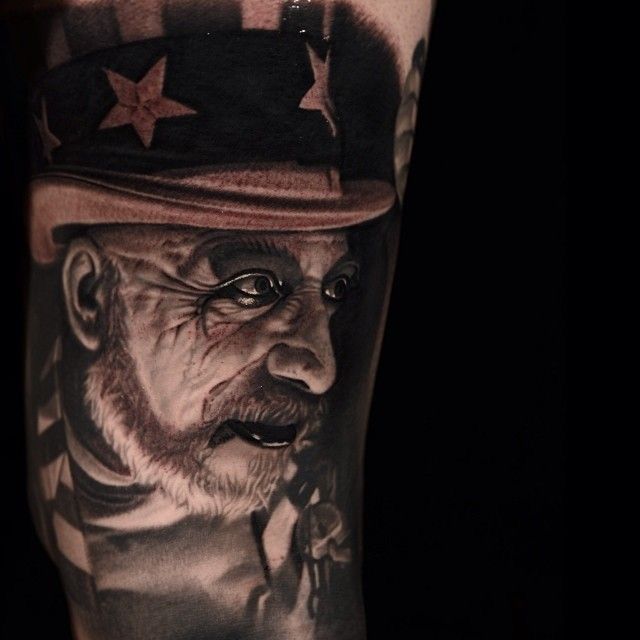 This black and grey Spaulding is totally chilling.




We hope you've enjoyed looking at these brilliant Captain Spaulding tattoos which pay tribute to the incredible talent that is Sid Haig - an amazing actor who will be truly missed by horror fans everywhere.

If you're looking to create some horror-themed tattoos then check out the Laky Set from Radiant Tattoo Ink over on our website.  It features a range of dark and gory colours that are perfect for creating horror movie themed portraits. 
Love Toni
Blog & image credits:
https://www.inkedmag.com/original-news/captainspauldingtattoos