How to Overcome Tattoo Anxiety
How to Overcome Tattoo Anxiety
Many people can overthink about their first tattoo and become overwhelmed, but this doesn't have to be the case.
We provide the best advise we can for anyone looking for information on how to overcome pre-tattoo anxieties or general tattoo anxiety in this article. Whether you have a phobia of tattoos, have jittery nerves, or are terrified of needles, all these feelings are completely understandable, and we're here to assist you.
We will break this down into three sections, before, during, and after!
Anxiety Before the Appointment
If you're nervous before getting tattoo, the best advice is to find a tattoo artist whose work you love, but who also makes you feel good during the consultation before the appointment. If you don't like the artist during a consultation, keep looking! Your first tattoo should be an enjoyable, experience no matter what.
We've broken down two steps to try and help your before-appointment anxiety.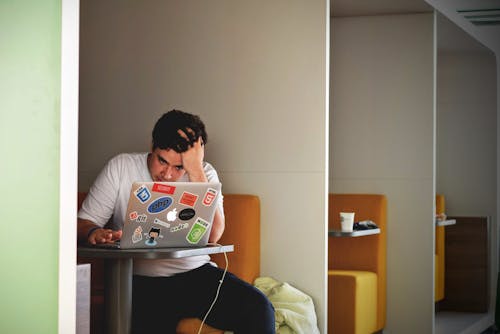 Step One: Find Out Why You're Experiencing Tattoo Anxiety
There are a variety of reasons why people are hesitant about getting a tattoo. Some people are concerned about the cost of tattoos, whilst others are afraid of needles.
To get past your first tattoo anxiety and learn how to cope with it, you must determine the source of your worry so that you can accept it and move on to this exciting new chapter in your life.
Second Step: Figure Out How to Handle Your Tattoo Stress Factor
It's great once you figure out why you're so stressed as you can now confront your fear and break it down. We'll touch upon budget anxieties, pain panics, and the angst-inducing strains of societal expectations in the sections below.
Fears about Cost:
If the price of a tattoo is causing you anxiety, make sure you tell your artist about your budget and what you are willing to pay when you book your appointment. This is absolutely natural, and they will fully comprehend.
And if your dream tattoo is a little out of your price range, that's also ok! You can either have the artist break it up into several sessions for you, or you can wait longer to save the money. Budget concerns are completely understandable and manageable.
Stress About the Pain:
Your stresses are probably exaggerating the agony more than you will feel when getting a tattoo. Endorphins, which are your brain's natural pain relievers, are released when you receive a tattoo, which should help you, and if it isn't enough, ask your artist if they would be prepared to put a numbing spray on your skin during your consultation.
Also, as soon as your tattoo is finished, all that pain will be gone, and you'll notice that all those unpleasant feelings will be replaced with the great satisfaction of having your brand new first tattoo.
Fears of Societal Expectation:
Thankfully, this isn't as big of an issue these days. Over the last ten years, society's perception of tattoos has shifted dramatically. Many more individuals are accepting of them, and some employers are becoming more tolerant of employees who have tattoos.
There are still some people, including older generations, who are opposed to tattoos, but keep in mind that this is an experience about you, not them. Do what feels right to you, and don't let anyone make you feel bad about expressing yourself.
Anxiety During the Appointment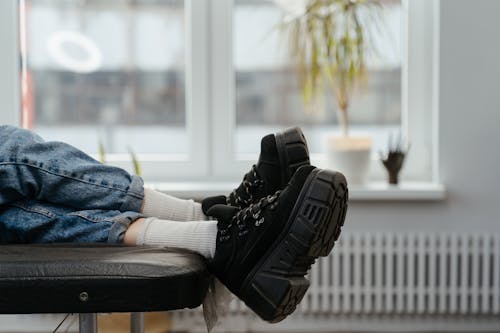 Look for a tattooist who understands your concerns and can respond to them professionally. And, obviously, if you adore their work, that will relieve a great deal of your stress.
Coping with the Pain of Your First Tattoo
Knowing how to cope with and limit tattoo pain could be the first step in learning how to relax when getting a tattoo. As previously said, there are a variety of techniques to cope with the pain you may experience throughout your consultation.
Ask your tattooist if numbing spray can be used, however, most tattooists don't have this on hand, so you will have to bring your own.
"I want a tattoo but I'm afraid of the pain," is super common to hear, and having those feelings is natural. But we can assure you that it will not be as bad as you imagine and that it will end soon. We can also guarantee that if you find the right tattooist for you, the pain will be well worth it.
Fear of Needles
If you are scared to get tattoo appointments because you suffer from a severe fear of needles, don't worry. We often hear, "I want a tattoo, but I'm scared of needles." and this is super normal.
If you're looking for advice on how to get a tattoo if you're scared of needles, we have definitely got some. Getting a tattoo is an experience that only has to happen once - it'll be there forever, and you only have to repeat if you want.
But there are other options for dealing with a fear of needles, such as bringing a friend. Distraction is an excellent method to get over this fear. Also, you are not required to see the artist's setup, they know what they're doing and staring at all the needles might make you feel worse.
Anxiety After the Appointment
Anxiety after getting tattooed, in most cases, shouldn't happen. But if it does, go back up to that step one, and figure out where your anxiety or fears are coming from. Is it because you think you made a mistake? Is it because you're not sure how to take care of your new tattoo? Are you worried what people will think about you?
Although post-appointment anxiety isn't common, if you do find yourself in this situation, you can learn from it. If you're unhappy with your tattoo, try to find a better artist, that you prefer, next time. If you're still unsatisfied with your tattoo after it has healed, you can find a more satisfied artist to fix, and make you feel better!
Overall, pick a great artist that you can trust and who respects you. Pay attention to what your inner voice is saying, take your time and do your homework. Any outside pressure should be brushed off - and don't forget to be excited, this is a wonderful time in your life!
For many people, anxiety and tattoos go hand in hand, so don't think you're alone. A lot of people are apprehensive about having a tattoo. Even the most hardcore tattoo collectors will admit that, while they adore the art form, they don't particularly enjoy the process.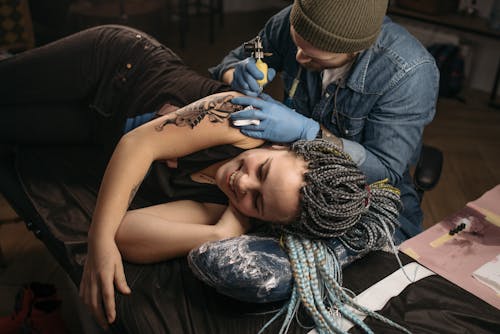 Tattoos are well worth the time and effort.
Blog Inspiration: Tattoodo
Looking for great tattoo products? Shop at Magnum Tattoo Supplies