Devils and Demons Tattoos for Halloween | Radiant Tattoo Ink Blood Red
Devils and Demons Tattoos for Halloween | Radiant Tattoo Ink Blood Red
Devils and Demons have been part of many cultures since the beginning of time.  Almost all ancient civilisations and major religions speak of some form of devil or evil spirit, that are ungodly, and bring pain and suffering to people. The folklore surrounding demons is actually quite fascinating, if not a bit creepy, and although they can often look terrifying, sometimes they're known to hide in plain sight and look just like you and me...
There is plenty of incredible artwork associated with demons and devils that has been used in books and films over the years, and of course tattoo culture.  Devils and demons are a popular choice for tattoo lovers, and even if you aren't partial to devil-worshipping way, they're still a really cool idea and make for a great tattoo!
We've came across some devilishly good tattoos that we'd like to share with you, so why not take a look?
 Artist unknown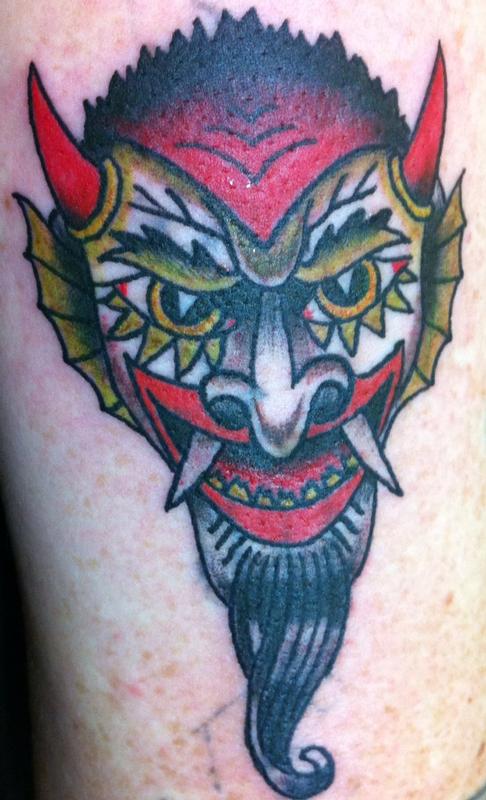 Sailor Jerry tattoos.  These 2 images are a couple of Jerry's most famous.  Classic demon tattoos that have been replicated thousands of times over the years. Artist unknown
An incredible Hannya mask backpiece.  Hannya masks are she-devils - known as jealous women who have been scorned and come back to punish their unfaithful partners. Artist unknown
This sinister devil tattoo is haunting. Artist unknown
Another spooky devil backpiece.  A fantastic traditional piece. Artist unknown
A black and grey traditional Barong mask. This is devilishly good. Artist unknown
This black and grey devil tattoo is hauntingly good. Artist unknown
Insanely good devil tattoos.  This matching set of neo-trad devils with their creepy expressions and menacing horns are phenomenal. Artist unknown

  

We hope you've enjoyed looking at these creepy devils and demons as much as we have!  If you're going to be doing any devil tattoos this Halloween then we'd love to hear from you.  Why not share your pics in the comments section below?  If you're after the perfect red tattoo for a truly classic demon, then head over to our website where you can buy Blood Red Tattoo Ink from Radiant Ink online?

 

 

 

 

Blog & image credits:

https://improb.com/best-demon-tattoos-for-men/

#slide-article .bcg { background: none transparent !important; } #slide-article img.hsContainer__image { display: none; } .article #slide-article .hsContainer { height: auto; }